Buy Heavy's Axis Power Craps Manual
Axis Power Craps details five skill sets almost anyone can learn. Master these and you too can become a precision craps shooter. Order now and find out how!




Axis Power Craps includes betting strategies for every dice pre-set arrangement. Precision dice shooting works for both right-way and wrong-way play. Your package features an instructional 100 page workbook with dozens of photographs of dice pre-sets and grips. Each book comes with two shirt-pocket precision dice shooting strategy cards, as well as practice forms you can duplicate and use to record your rolls.

Axis Power Craps is just $39.95 including all shipping and handling. It is published in e-book format. You will receive the book promptly via e-mail. The dice setting strategy cards will be sent via 1st class mail. Order on-line through PayPal at this link:





If you prefer to pay by check or money order, send your remittance to:



Steve "Heavy" Haltom
P.O. Box 7094
Tyler, Texas 75711



Be sure to include your shipping address and e-mail address.
Most Popular - Top 25
Show Top: [ 10 - 25 - 50 | 1% - 5% - 10% ]
Craps Table

Description: Zip file of table plans courtesy of LilLou
Version: 1 Filesize: 0 bytes
Added on: 03-Apr-2005 Downloads: 6833
HomePage | Rate Resource | Details
Category: Table Plans


BoneTracker 5.2.2
Description: The 2008 Edition of BoneTracker with the latest and greatest enhancements yet. Enhanced Transpose dice-set entry, Enhanced Stats page layout, New Pattern-Of-Influence on stats page, New Chi-Squared test on stats page, New Rolls-Between stats for all box and craps numbers, New Forum-Posting tab to assist in formatting Dice-Sets and Foundation-Frequencies for your forum posts. This file is zipped for quick download.
Version: 5.2.2 Filesize: 62.50 Kb
Added on: 30-Jul-2008 Downloads: 2269 Rating: 5.0 (8 Votes)
HomePage | Rate Resource | Details | Comments (6)
Category: Roll Trackers


Axis Power Craps Precision Shooter Playbook
Description: The Precision Shooter E-Book is an electronic copy of the book distributed in our Axis Power Craps precision dice shooting seminars. The book is zipped in WINRAR format and will extract to Adobe.
Version: 1.0 Filesize: 405 bytes
Added on: 11-Nov-2007 Downloads: 795
HomePage | Rate Resource | Details
Category: E-Books


BoneTracker 5.0
Description: The latest and greatest edition of BoneTracker includes Come Out and Point Cycle versions and incorporate's Stanford Wong and the Mad Professor's Dice Tool. Now dice influencers not only know what their edge is at the game - they know how to best exploit it.
Version: 5.0 Filesize: 0 bytes
Added on: 22-Jul-2006 Downloads: 763
HomePage | Rate Resource | Details
Category: Roll Trackers


BoneTracker Version 5.1
Description: The newest version of BoneTracker introduced at CrapsFest 2007. Version 5.0 added Stanford Wong's Dice Tool to BoneTracker. This latest version includes an all new "Number of Rolls Between Sevens" screen and a new simplified method of entering your dice set arrangements. The file is zipped and includes detailed instructions on how to use BoneTracker. BoneTracker requires MS Excel and operates as an Excel Spreadsheet. Macros must be enabled for it to function properly. License is free for personal use only. If you wish to use the program commercially please contact the author for licensing information.
Version: 5.1 Filesize: 1.27 MB
Added on: 15-Oct-2007 Downloads: 655
Rate Resource | Details
Category: Roll Trackers


Perfect Toss Self Hypnosis Audio File
Description: The perfect toss self hypnosis audio recording was done by clinical hypnotherapist Kent Glimes, who has made it available to our forum members and guests free of charge. Please listen to the disclaimer at the beginning of the recording. Never listen to a self-hypnosis program when driving or operating heavy machinery. It should be enjoyed quietly in the privacy of your own home.
Version: huge file Filesize: 2 bytes
Added on: 23-Sep-2006 Downloads: 332
HomePage | Rate Resource | Details
Category: Audio Recordings


Straight Shooter's WSOC DEMO
Description: This is a self extracting Bare Bones Demo of an online craps game due to release in early summer of 2005. The game takes an in depth look at Dice influencing and brings a more "realistic" view to PC craps gaming with variables such as Fatigue, Comps, and "control experience". Please view the readme file for more information on the game.
Version: Demo Filesize: 5.05 MB
Added on: 29-Jan-2005 Downloads: 153
HomePage | Rate Resource | Details
Category: Games


Devils Foray WinCraps Script
Description: This sim was scripted by Maddog in response to Axis Power Craps member interest in the Devil's Foray strategy developed by long-time forum member Bob.
Version: Filesize: 0 bytes
Added on: 24-Jan-2008 Downloads: 93
HomePage | Rate Resource | Details
Category: Wincraps mods


Join Heavy's Axis Power Craps
Axis Power Craps Seminar on DVD!
Heavy's Axis Power Craps Dice Control Seminar is now available on DVD!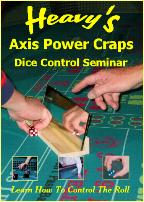 This is the breakthrough video that sent the competition back to the drawing board. The first professionally produced DVD demonstrating the mechanics of a controlled dice shot.

The DVD includes the portion of the seminar that deals specifically with the mechanics of the grip and toss, along with roughly twenty minutes of tossing and coaching live at the craps table. You'll see Heavy and his students setting and throwing the dice with the camera running real time to show the results.

You'll receive almost three hours of player education featuring the best dice sets, grips, tosses, and more. In addition, we cover betting strategies, money management, discipline, focus, the mental edge, and playing the comp game to win. You'll also receive the e-versions of the seminar workbook, manuals from our other seminars, handouts and strategy cards as an added bonus. Order now and we'll also include a copy of Heavy's "Crapshooter's Buffet" audio CD - recorded live at the Las Vegas Craps Festival in 2001.

Order the Axis Power Craps Seminar on DVD via PayPal below for just $189.00 plus shipping and handling. US customers add $6 shipping and handling. Canadian customers add $11 shipping and handling.



The Axis Power Craps Clinic on DVD - it's the next best thing to being there!
Book Your Private Event With Heavy

Heavy is available for small private group seminars in Las Vegas, Tunica, and Biloxi.

You'll receive an advance copy of Heavy's Axis Power Craps Seminar on DVD and all of the related training material. Then, at the seminar you'll have Heavy's undivided attention for two full days.

Friday evening you will meet Heavy and take a casino walk, learning about the tables we prefer and why. If conditions are favorable you may play a brief live casino session together. Then you will be on your own to enjoy the amenities of your casino resort. Saturday morning we will hit the dealer school for a full day of toss training and betting strategy review. You'll learn the sets and the bets that will get the money, then put it all together in a live practice session. Can you out-shoot Heavy? Who knows? By the end of the session, maybe you will.

Saturday evening, casino conditions permitting, you will play a live session, followed by a review of your play and ways you might improve on it. After that you'll be on your own for the evening. But don't stay up playing all night. Sunday is a full day.

Sunday morning begins with an early-bird in-casino session. Afterward we'll take a break and review your BoneTracker results for the weekend. We'll even custom-design a "personal" dice pre-set arrangement for you. Then you'll play one more live session with Heavy

All in all, you'll have around 18 hours of face time and table time with the big guy - including at least three live casino sessions.

Sign on with three of you friends and the cost per person for this exciting private weekend is $1000 less than you'd pay for our overpriced competitor's group classes. The maximum class size is eight students. Pay just $3295 for up to eight players. That works out to as little as $412 per person for eight players.

Reservations must be made and pre-paid a minimum of thirty days in advance. For more information contact Heavy direct at:

axispowercraps@gmail.com or telephone 1-888-YO-HEAVY.