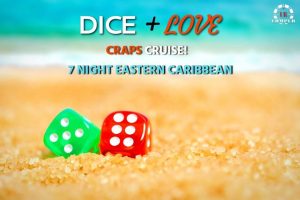 Nothing Says Loving like Craps and Cruising Valentines Week – February 10 – 17, 2019
Ever since the popularization of poker cruises many years ago the gang here at Axis Power Craps has kicked around the idea of promoting a Craps Cruise.  In 2019, thanks to our partners at URComped.com, we're making that dream come true.
Make you plans NOW to join us on one of the world's largest cruise ships, Royal Caribbean's Oasis of the Seas as we cruise the Eastern Caribbean.  We embark from Port Canaveral, Florida with ports of call in Nassau, Bahamas, St. Thomas, US Virgin Islands, and St. Maarten, Netherlands Antilles.  Along the way you'll have three great days at sea to explore all the Oasis of the Seas has to offer, the ship's Royal Promenade lined with shops like Michael Kors, Kate Spade and Starbucks. You'll discover features such as a Central Park, containing more than 12,000 live plants, and an innovative design that has two large interior areas open to the sky.  There's plenty of room for fun in the sun, spas, health clubs and much more.  And don't forget the Casino Royale!  After all, it wouldn't be a Craps Cruise without plenty of hot action in the pits.
Not quite up to speed on your craps game.  Heavy of Axis Power Craps will be offering a three hour supplemental craps seminar early in the cruise for those of you who need to get up to speed on the latest winning techniques.  And if you need additional time on top of the group class – heavy will be available for private one-hour three-student classes on one of the casino's tables during the morning hours when the casino is closed.
How do you get started?  If you are a rated casino player with comp offers in hand from land based casinos – or have comp offers available from the casino on any major cruise line – contact the good folks at URComped at www.URComped.com.  Once there simply sign up for a free membership, then take a photo of some of your best comp offers and upload them via their website.  Within a few days one of their friendly casino hosts will contact you with details on what sort of offer they can secure you from Royal Caribbean.  You could receive anything from a discounted cruise to a fully comped cruise based on your prior play.
When you book your cruise be sure to tell your host that you'd like to sign on for Heavy's three hour basic class for $299 – and one of the one hour three-student lessons for $99.  The total cost for both sessions – $398.
If you prefer to book your cruise direct through Royal Caribbean you can still sign on for Heavy's ship-board training classes.  Simply e-mail him direct at heavy@axispowercraps.com for more information.
Make your plans to join us on the Craps Cruise NOW!
A while back a good friend of mine complained that – after years of practice the best he could achieve was an SRR of 7.12. To his way of thinking he was not playing with enough of an edge, and his results at the table seemed to support this....

Read more
A while back a good friend of mine complained that – after years of practice the best he could achieve was an SRR of 7.12. To his way of thinking he was not playing with enough of an edge, and his results at the table seemed to support this....

Read more

The term psi comes from the 23rd letter of the Greek alphabet and is used as an informal abbreviation for "psychic phenomena". As such it covers all uses of the mind beyond the reach of accepted science. Psi-power should not be confused with ESP, which stands for "Extra Sensory...

Read more

Articles that offer suggestions on how to play within a certain budget are among our most popular.  Frankly, I'm surprised at how many people ask for suggestions on how to play with around $120  per session.  Admittedly there was  a time when I would have told anyone asking me...

Read more

Setting goals is a great way to plan for success. By setting goals on a routine basis you decide what you want to achieve, and then move step-by-step toward achieving them. The process of establishing things like Sevens to Rolls Ratio objectives and win goals allows you to choose...

Read more

If you've ever stood at the table with me for any length of time you've probably heard me say "Get those late bets in early, guys." That's because late bets – bets made after the dice have already been sent to the shooter – disrupt the flow of the...

Read more

The transition move is one of the most powerful weapons in the crapshooter's arsenal. It is also one of the most difficult to master. Simply put, a transition move is your pre-planned strategy to ease your bets from one side of the line to the other, allowing you to...

Read more

You've seen it before. You're standing at a choppy table, being ground down by the house when something magical happens. A new player steps up to the table and buys in. He stands tall, looks around, claps his hands and says, "Come on, guys. Let's turn this table around."...

Read more

How many times have you heard the phrase, "You must've got a phone call" while standing at the craps table? Seems like I've heard it a million times. These days, more often than not it's part of a dialog that goes something like this: Shooter: "Hopping the nines for...

Read more

Okay, I'll admit it.  I'm not above being inspired by shows like The Walking Dead.  But in this case – we're not talking about the dead walking. We're talking about the dead European mathematicians. Back in the heyday of roulette in Europe the greatest mathematicians of the day set...

Read more

In developing the Craps Boot Camp Team Play seminars I do from time to time, I spent a lot of time considering what a professional craps team should look like. Having played a few team sessions in my life I have some insight into the situation. And the answer,...

Read more

During the oil boom days in East Texas just about every town around here had a saloon, a gambling hall, and a whorehouse. The drillers, riggers, and roustabouts worked hard for their money and they played as hard as they worked. One city in particular, I won't mention its...

Read more

Take a look at any crap table and see where the sage old right-way players put their money. One of the most popular bets you'll see these guys toss out is $44 inside – that's twelve dollars on the six and eight, and ten dollars each on the five...

Read more

The term psi comes from the 23rd letter of the Greek alphabet and is used as an informal abbreviation for "psychic phenomena."  As such it covers all uses of the mind beyond the reach of accepted science. Psi-power should not be confused with ESP, which stands for "Extra Sensory...

Read more

Before I get too deep into this article I'll 'fess up and tell you I'm entirely too dependent on a roll tracking program developed by my buddy Maddog called BoneTracker.   BoneTracker did some wonderful things for me. First off, it simultaneously compared my EV on dozens of different...

Read more

Murphy's Law states 'If anything can go wrong it will go wrong'. Its creator, U.S. Air Force Captain Ed Murphy, coined the phrase after a G-force stress measuring device he had installed on a chimpanzee for a rocket sled test failed to function – no doubt stressing the chimp...

Read more

I often say that playing craps is like stepping onto a battlefield. It is you against the casino. Unless you are a skilled shooter, every wager on the layout has you at a disadvantage. The casino has unlimited ammunition in the form of its bankroll, while you are limited...

Read more

It's funny how players who would never consider hedging a five dollar pass line bet let higher table limits get between their ears. Put them in a ten dollar game and they start tossing out dollar craps checks. Raise the limits to twenty-five and you'll see the three-way craps...

Read more

A lot of us are very good at influencing the dice, but very bad when it comes to getting a profit off the table. For many of us the problem comes down to the basics of heads-up casino play. And it all begins with bankroll. A while back I...

Read more

Tension is one of the biggest enemies of the precision shooter. Tense shooters grip the dice too tight and toss them too hard. Instead of smooth, fluid tosses their throws look hurried and jerky. How can you learn to toss like a pro? First, you have to understand where...

Read more

Risk. We face it everyday. Risk from uninsured motorists. Risk from eating too much red meat. Risk when we jaywalk in Vegas. Everyone, at some gut level, makes choices about risk every day. For the most part we measure the amount of risk we take against the potential reward...

Read more