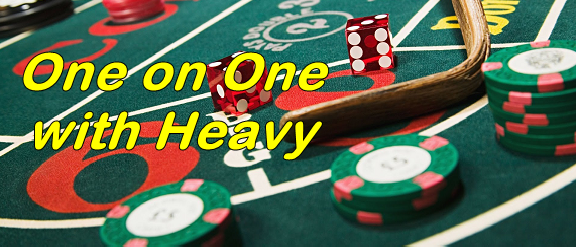 Join me (Heavy) in Las Vegas the weekend of March 23rd for the next One-on-One with Heavy Weekend. That's right. We'll be going one-on-one right in the middle of March Madness.
The One-on-One Weekends are a different sort of class. Target class size is just six. Maximum class size is eight. The agenda shapes up like this:
Friday Evening: Casual meet and greet at a location to be announced. If you want to grab something to eat we'll choose a place with decent bar food and adult beverages. Once everyone has had a chance to put names and faces together we'll make a decision about casino play. Odds are we'll get a casual live session in. This gives me an opportunity to observe your play at the tables and file that information away for when we get together in class, where we may consider optional ways to play that might work better for you.
Saturday Morning: We'll meet at a secret location with a million dollar view of Las Vegas and conduct the class on a private table. We'll start off the day with several different toss demos. Then I'll work one-on-one with each of you on your tosses. While you are "at bat" we'll have one other student on deck observing and assisting at stick. The rest of the group will be free to work on their tosses on a separate practice rig, or to just observe the coaching at the table. We'll work on choosing the best sets, how to get to those sets quickly, how to grip the dice and execute a controlled throw. We'll track for results and analyze from there. Each of you will receive a written toss critique with recommendations for improvement.
Mid-Day Break: We'll look at a couple of options. One is to simply order pizza in and to continue working. The other is to break for a casino buffet and a quick live casino session as a group. Group consensus rules on this one – but if we opt for a live session we'll put a strict time limit on play. There will be much left to cover in class in the afternoon.
Saturday Afternoon: We will continue to work on tosses as we review some of the highlights of the Craps Boot Camp program, which focuses on Team/Group Play. I'll also cover the usual topics; bankroll, buy-in, money management, discipline and correct betting strategies (including shooting from the Don'ts). If time allows we'll also delve into the crap between your ears and comps, the hidden win. And we'll run a mock session where each member of the class has an assigned position at the table – primarily as a prep step before Sunday's live play.
Sunday Morning: I'll conduct an optional "add-on" betting strategies class featuring some of the strongest – and some of the craziest betting strategies I've seen through the years. In addition to my own plays, I'll cover our old friend Rappin' Captain's Exponential Odds strategy and the Luckiest Man Alive's place to come strategy. We'll also hit the highlights of my preferred roulette, blackjack, and baccarat plays.
If you're not interested in the optional Sunday add-on class then feel free to hook up with your classmates for live casino play on Sunday morning. Odds I will miss the hand of the weekend – it often comes while I'm teaching a betting strategy class. But never fear. Along with the players who sign on for the Sunday morning betting class, I'll be joining you at the tables for a couple of live group/team sessions on Sunday afternoon.
Want to get one last session in on Monday morning? Odds are I'll play a final session before hitting the road and you'll be welcome to join me.
Pricing on this weekend's sessions is pretty straight forward:
Saturday Alumni Class (full day) is $595. Sign on at this link:
Saturday New Student Class (full day) is $795. Sign on at this link:
Sunday Betting Class is $295. Sign on at this link:
As usual, this cost covers the class and all handouts/material. You are on your own for airfare, meals, and accommodations.
Hurry – register before March 10th to avoid late registration fees. Make your plans to attend now!
If it hasn't happened to you yet, I can only tell you that it will.  Some day you'll be standing at the craps table, tossing the dice and hitting numbers over and over, while time and the outside world seem to disappear.  Congratulations.  You have just entered the Zone....

Read more
If it hasn't happened to you yet, I can only tell you that it will.  Some day you'll be standing at the craps table, tossing the dice and hitting numbers over and over, while time and the outside world seem to disappear.  Congratulations.  You have just entered the Zone....

Read more

For many years we had an Axis Power Craps forum member known as "Big Kahnman" who loved to play around with different betting systems in the casino.  Big K was partial to one system that's been around for years – reportedly developed by a graveyard shift dealer from Harrah's...

Read more

Every month we send out our forum newsletter.  Every month we receive newsletters from other gaming education outfits. It's always interesting to read their take on the game – just as it is no doubt interesting to them to read what we have to say. To say we have...

Read more

What the heck is up with crapsters and this superstition thing? You know what I'm talking about. It's a disorder called Apophenia.  That's the human tendency to make incorrect assumptions based on random data.  That leads to the presumption that there is a cause and effect relationship between certain...

Read more

The debates have been raging lately over the efficacy of regressions versus progressions versus flat betting.  Should you bets start high, drop back down, then follow some sort of press moves to table max?  Should you press from the first hit and forget about regressions?  Or should your bets...

Read more

Although most DI's love the game, deep down inside we all know that "Crapless Craps," also known as "Never Ever Craps" is a terrible game.  It's unique properties – elimination of the eleven as a natural winner and turning the 2, 3, 11 and 12 into "hard" point numbers...

Read more

Take a look at any crap table and see where the sage old right-way players put their money.  One of the most popular bets you'll see these guys toss out is $44 inside – that's twelve dollars on the six and eight, and ten dollars each on the five...

Read more

During a live session at one of the craps clinics we did way back in 2004, I was fortunate enough to get in on a hand tossed by a point-shooter.  For those of you who may have missed out on my earlier discussions on this topic, a point shooter...

Read more

One of the many issues recreational gamblers endure is short run bankroll volatility.  These are often players with short bankrolls to begin with; guys who step up to a $10 game and buy in for double what they'd buy in for at a $5 game – a whopping $200. ...

Read more

Let's face it.  It happens to all of us.  For one reason or another, skills we've developed practicing our plays at home don't make the transition to the casino.  Blame it on variance, bad luck, or something you ate for dinner – sometimes the correct craps play is no...

Read more

Being the ramrod of the Axis Power Craps Forum and an assortment of other websites, I frequently get reports from other players who either want to start up a pro craps team OR have already put together a team and they're having problems.  Most of the time, but not...

Read more

My first piece of advice I have for wannabe Craps Pros is simple.  Don't give up your day job.   As the Mad Professor once said, "Gambling is a tough way to make an easy living."  Most of the pros I know would agree.  But if you insist on taking...

Read more

"What?!?" you say. Roulette? Why the heck would you play roulette?  It carries a ridiculous house edge – in excess of 5% on the American wheel. Mathematically it cannot be beaten over the long run. "True," I reply. And though I'll get grief from some folks for proposing this...

Read more

From time to time I'll get a question from a player regarding some of the language experienced players use when placing their bets.  I thought I'd go through some of the more common bets in this article, explain why we make those bets the way we do, and give...

Read more

Every year about this time I talk about the Bookends of Summer. I'm referring to the two major holidays that fall at the beginning of summer and the end of summer – Memorial Day and Labor Day. I talked about Memorial Day back in May, so it's time to...

Read more

I frequently get questions – both by e-mail and on the Axis Power Craps Forum, regarding what it takes to succeed as a dice influencer.  Recently I sort of "went off" on an older gentleman who has been searching for the "secret" of precision shooting for several years, but...

Read more

I supposed I should begin this article by talking a little bit about how dependent some of us (myself included) have become on BoneTracker through the years. (BoneTracker, the premier roll tracking software for dice influencers, is available to download free here on this site.  After you finish reading...

Read more

We've all heard of the KISS Theory as applied to many things in life. If you've been off-planet for the last thirty years and are not familiar with the KISS Theory – it stands for Keep It Simple Stupid. And I suspect that there's no were that this theory...

Read more

Okay, I'll admit it. I have a few guns around the house. What the hell? I grew up in the woods in Arkansas, had my first BB gun at five and my first .22 at nine. By the time I was twelve I had a 30.06 rifle and a...

Read more

My first piece of advice on this topic is simple. Don't give up your day job. As the Mad Professor once said, "Gambling is a tough way to make an easy living." Most of the pros I know would agree. But if you insist on taking your shot at...

Read more