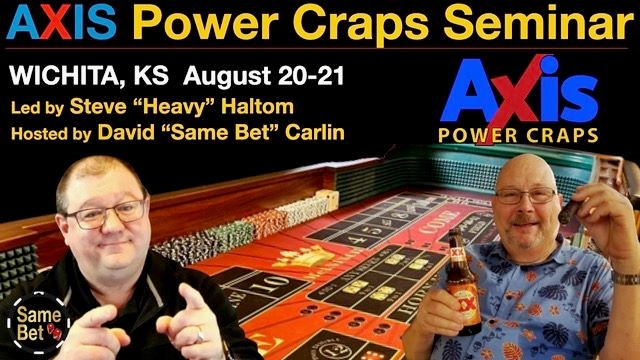 Steve "Heavy' Haltom & David "Same Bet" Carlin's
Axis Power Craps Seminar – Wichita, KS
August 20 – 21st, 2022
Ordinarily we'd head to Kansas City for our August Axis Power Craps Seminar, but "The Flea" moved out of her house and into an apartment, forcing your old pal Heavy to liquidate his Kansas City Craps table and leaving me a table short for this Summer's seminar.  But never fear – there's more than one craps table in Kansas.  Enter my pal, YouTube host of the popular Same Bet Channel David Carlin, long time Axis Power Craps supporter and craps expert in his own right.  David and I had been talking for some time about doing a small semi-private class for him and a few friends at this place in Wichita.  After a little arm-twisting from me and a few promises of future honey-do's from David to his bride – permission was granted and our Summer seminar was back on the books.
For those of you who've never been there, Wichita is a mid-American metropolis right smack-dab in the Heartlands. No, it's nowhere close to Liberal, Kansas – Dorothy and Toto's hometown. It's a little closer, but still a five-day ride by ox-drawn Conestoga wagon, to Dodge City (for you Wyatt Earp fans). It's due North of Oklahoma City and about three hours Southwest of Kansas City. Back in my Road Warrior days, the city was one of my primary "crossroads," and I overnighted there frequently.
There are plenty of hotels in all price ranges, chain-food restaurants and, of course, local favorites like Whiskey Dicks and the Doo-Dah Diner – much more to my liking as I'm a "local joint" kind of guy. They have a great airport if you're flying in. Miles and miles of wheat, corn, and sunflowers if you're driving. Yeah, it IS Kansas, and I've driven every mile of it multiple times.
Dave and I have a great time planned for you guys. I'll be covering the same original content we present in every Axis Power Craps Seminar we do in Vegas, Biloxi, and other locations around the country – as well as in our Seminars at Sea on Royal Caribbean. That includes the latest updates on betting strategies, a few BoneTracker insights, and more. We'll keep the class on the small side so everyone will have plenty of one-on-one practice time on Dave's beautiful casino table. We'll offer both a full day Saturday dice control class and a half-day Advanced Betting Strategy class – priced separately with an additional discount if you take both sessions. And, you may even get a chance to "shine" on video as we'll be recording the class so Dave can use excerpts in future episodes of his Same Bet Program on YouTube.
Dave's place is just on the west side of Wichita, out in the country a bit. The local casino is about a half hour south of Wichita. If you're flying in and looking for hotel accommodations that should narrow the field a bit
Saturday morning's class will kick off at Dave's place at 9AM sharp and will wrap up at 5PM. I do my best to stick close to the schedule when we're guests in someone's home craps pit, as Dave and his bride deserve some down time in the evening. We'll provide bottled water to keep you hydrated and a few snacks to keep your blood sugar stabilized before and after lunch. We'll cross the lunch bridge when we come to it. Nobody has gone away from one of these classes hungry yet. At least not unless they were on a diet and planned it that way.
Topics I have on my agenda for Saturday's class include:
Pre-Setting the Dice
Gripping the Dice
Focus and the Mental Edge
Owning the Table.
Breathing and Relaxation (SABRE)
The Toss and Follow Through
Angle of Attack for Different Tables
Felt vs. Microfiber
How to Handle Bouncy Tables
Backspin – More or Less
Observing Results and Diagnosing Results
Bankroll and Buy In
Betting – Progressive – Regressive – Right or Wrong
Money Management and Discipline
When to Walk – When to Run
And, of course, much more . . .
I'll also allow plenty of Q&A time, so bring your questions and we'll do our best to answer them.
Since I am teaching this class without the aid of one of our APC Certified Coaches this time out I'm able to offer a discount off our normal price schedule for this event. Here's how it shakes out:
First time Axis Power Craps Students: $795 (that's $200 off the regular first time student price – $100 off the Veteran price).
First time students can enroll at the following link: https://www.paypal.com/cgi-bin/webscr?cmd=_s-xclick&hosted_button_id=CL9D69PKF36HA
Axis Power Craps Alumni Students: $595 (that's $100 off the regular Alumni price).
Axis Power Craps Alumni Students can enroll at the following link:
https://www.paypal.com/cgi-bin/webscr?cmd=_s-xclick&hosted_button_id=NBVW2JRHFEP86
Sorry, no additional discounts available for this event.
Saturday night everyone is on their own to hook up and hit the local casino or just kick back, grab some dinner and relax.  Then on Sunday morning we'll crank up at 9AM once again at Dave's place with the Advanced Betting Strategy Class.
This class is roughly 40% Right Way plays, 40% Dark Side plays, and 20% Transitional plays.
The class stretches about four hours and is, quite frankly, a Master's Class in betting. While it is an optional add-on class – everyone signing on for the seminar weekend should sign on for this class at least once in their craps career. Note that if you have taken an Axis Power Craps Seminar in the past and wish to sign up for the Betting Strategy Class ONLY you may. The tuition for this class is normally $395 if you are signing on for it as a stand-alone class. If you wish to sign up for it as a stand alone class this weekend you may sign up for $299 – a $96 savings of the regular price. Those of you signing on for the Advanced Betting Class as an add-on to the Saturday Dice Control Class can do so for $199. That's a discount of $160 off the regular $359 price.
Sign up here for the Stand Alone Advanced Betting Class – $299:
https://www.paypal.com/cgi-bin/webscr?cmd=_s-xclick&hosted_button_id=9T3BCHRTUFC9C
Sign up here for the ADD ON Advanced Betting Class – $199:
https://www.paypal.com/cgi-bin/webscr?cmd=_s-xclick&hosted_button_id=UPKY56YVE23FC
REMEMBER: First off, we'll limit this class to 8 – 10 total. Secondly, the plan is for David and I to run the class, but we MAY have another coach present, if available. Third, I've given the okay to David to video the class and use EXCERPTS (approved by yours truly) in future episodes of the Same Bet YouTube show down the line – for those of you who are curious about just what the classes look like. And we're planning a full day Dice Control class on Saturday and a half-day Advanced Betting Strategy class on Sunday morning – much like we do in all of our classes.
As I mentioned earlier, the nearest casino is the Kansas Star, which is about 30 miles down the road, but they have four tables, as I recall – two standard games and two crapless. I am planning to play a coaches/students live session there on Sunday afternoon after the class. I may stay and play more, depending on conditions. Last time I was there the tables were very playable, We currently have several Group members who hit them successfully regularly, as noted in some of the trip reports you see here. the Star is a Boyd Gaming property, by the way, in case you are wondering about booking rooms there already. However, my experience has been that they do not comp in advanced based on play at other Boyd properties as the hotel they use is a Hampton Inn and they must purchase rooms form Hampton for casino guests. They do not have their own casino hotel on-site.
We're going to have a blast in the Same Bet Craps Pit. If you live in Oklahoma, the Texas Panhandle, Western Missouri, Southern Nebraska, Eastern Colorado, or anywhere within driving/flying distance of Central Kansas – start making plans now. Again, we're limiting enrollment to 7 – 8 in addition to the guys we already know are going to be there, so if you're interested, shoot me an email at axispowercraps@gmail.com and I'll put you on the early bird list. Don't miss out on this fun event.
Tuition covers the cost of the classes and all related material. Students are on their own for transportation, lodging, meals, etc. Remember, these events are intended to be instructional – educational weekends. While many players walk away from these events winners – there is no guarantee that you will win at any casino session. It's still gambling and you could lose. Don't gamble with money you cannot afford to lose.
__________________________________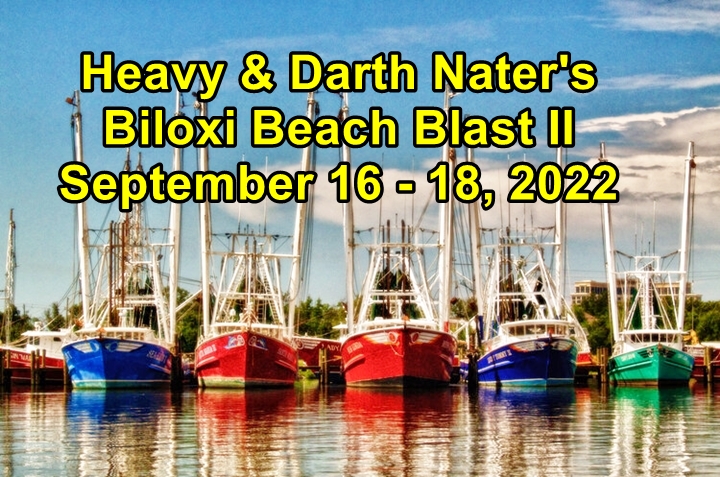 The NEXT Biloxi Beach Bash with Heavy and DarthNater is Just Around the Corner 
September 16th – 18th, 2022
Right on the heels of June's RECORD MONSTER HAND WEEKEND in Biloxi – Heavy and DarthNater are heading BACK to Biloxi for yet another "Back to Biloxi" Beach Bash! This one will be in HIGH DEMAND, so make your seminar AND hotel reservations NOW! If you wait too long to sign on you just may miss out on the action.
Craps players – you'll absolutely LOVE Biloxi casinos' generous odds, automatic Buy bets on outside numbers, friendly dealers and easy comps. And if your toss isn't quite where you want it to be, or if you haven't quite figured out how to maximize your winnings at the table – don't fret. Heavy and DarthNater will show you the way.
This exciting weekend starts with FOUR BoneTracker Training Sessions. One Basic BoneTracking Session for those of you just learning the software, and Three Advanced BoneTracking Sessions for those of you who have some history with the software; but want to raise your game with expert analysis of your toss results using cutting edge analytics that are presently under development.
The Basic BoneTracking class will take you through all of the information you need to know to be able to track and analyze your own rolls in BoneTracker, including the data entry page and the transition tabs.
The Advanced BoneTracking Sessions will build your knowledge and provide you with a personal analysis of your own book of 560 – 720 rolls; while also taking a deep dive into your best dice sets for every number on the layout. Each of these sessions is limited to a maximum of just TWO players each – four students for the morning sessions and four students for the afternoon sessions. The cost of these sessions breaks down as follows:
Basic BoneTracking Class: $299
Advanced BoneTracking Class: $399
BEST DEAL! BOTH Basic and Advanced Classes Combined: $649
Students signing up for the Advanced BoneTracking Class must submit a book of 560 – 720 rolls in BoneTracker format by SEPTEMBER 1ST to allow time for the coaches to complete their analysis of the rolls.
Again, ONE Basic and THREE Advanced sessions are available for a max of TWO players per session. Due to the limited number of slots open, expect these slots to sell out quickly. Sign up early if you wish to lock in one of these slots. First paid – first served. Note that the BoneTracker slots are not available on the Axis Power Craps Golden Ticket option.
Sign on for the BoneTracker Sessions at the following links:
Basic BoneTracking Class: $299: https://www.paypal.com/cgi-bin/webscr?cmd=_s-xclick&hosted_button_id=BBWFAQNKEZMEE
Advanced BoneTracking Class: $399: https://www.paypal.com/cgi-bin/webscr?cmd=_s-xclick&hosted_button_id=NL9W277Z47E7A
BEST DEAL! BOTH Basic and Advanced BoneTracking Classes: $649: https://www.paypal.com/cgi-bin/webscr?cmd=_s-xclick&hosted_button_id=F3AC32MZ9XPUG
One of the things we like best about Biloxi is getting together with the other friends we've made at the seminars through the years. It's hard to beat a weekend with old friends and new, fresh-from-the-Gulf seafood, and some of the best craps games in the country. On Friday night we'll hold our traditional Meet and Greet Get-Together. Afterwards you'll be on your own to hit the casinos alone or in teams to take on the tables. But don't be out partying all night and don't blow the bankroll before you've even stepped into the classroom because Saturday morning Nate and I will have serious craps training on our minds.
Saturday's class will take place at the local dealer school down the beach in Gulfport. This class will offer the best of both worlds. All attendees will have the opportunity for hands-on coaching from both Heavy and Nate. We both teach the traditional on-axis toss and both have the same objective – getting you the best, most profitable toss ever. Heavy's primary betting focus is on right-side play while Nate is a master of the Don'ts.
Among the material we'll cover:
Table Positions – stick left isn't the only spot in town!
Correct Dice Sets and how to get there quickly!
Correct Grip for you based on the physical shape of your hand.
Correct Toss for you – depending on your physical stature and ability.
Focus, Breath Control, and Landing Zone
Visualization and the Mental Edge
Right Side Betting Progressions, Money Management and Discipline
Basic Don't Play
And Much More!
Each attendee will receive a copy of Heavy's original Axis Power Craps Seminar on DVD and live one-on-one toss analyses plus a toss improvement plan. But don't just come out for the personal toss instruction. You'll learn even more by watching Heavy and Nate coach the other attendees. Of course, if you DO get bored you can always hit the dealer school's third table for an "open" practice session.
Note that we limit the number of students per table in the break-out sessions to 6 – 8. If class size exceeds that number, we'll bring in a third coach and run all three tables in order to have smaller breakout sessions. All students will rotate through all coaching stations so each coach can look at every student's toss and give their own analysis. Bottom line – you'll have plenty of time to work on your throw and observe others being coached before heading to the casinos.
Saturday's session is available stand-alone at the following pricing:
First-time student tuition for students who have never attended a Dice Control Seminar in the past is $995 for the full day Saturday PLUS all Live Casino Sessions on Sunday. New Students sign on via PayPal at the following link:
First Time Students $995: https://www.paypal.com/cgi-bin/webscr?cmd=_s-xclick&hosted_button_id=EQUF3ZQ896X6G
Golden Touch Craps Alums, Howard Rock 'n Roller Alums, and Dice Coach Alums – in recognition of the fact that you learned an on-axis type toss with these organizations we offer a $100 discount off our New Student tuition. In addition, we offer a $100 discount to all DD-214 US Military Veterans. Your tuition for the Full Day Saturday and all Live Casinos on Sunday is $895. You can enroll at the following links:
Competitive Alums $895: https://www.paypal.com/cgi-bin/webscr?cmd=_s-xclick&hosted_button_id=R98S79YLFVTXC
Axis Power Craps Alums can sign on the full day Saturday for $695. If you have one of those $100 Black Chip discounts from a previous class, sign up on the following link and notify me via email that you have one of the APC Black Chips. I will rebate $100 to your PayPal account in exchange for that chip – reducing your net cost to $595 for the full day. Please return the chip on class day. Your tuition includes all Live Casino Sessions on Sunday. Alumni Students and Veterans enroll at the following links:
Axis Power Craps Alums $695: https://www.paypal.com/cgi-bin/webscr?cmd=_s-xclick&hosted_button_id=L2CJW8T4T857E
Want to strengthen your game even more? On Sunday morning Heavy and DarthNater will be back at the dealer school with their Advanced Betting Strategy Seminar featuring Heavy's favorite right side moves and DarthNater's top Dark Side strategies. This is the same great content we've taught at our Darksider's Ball classes and our highly acclaimed Right or Wrong Weekend Seminars. The class breaks down to roughly 40% Right Side betting, 40% Dark Side betting, and 20% Transitional/Hybrid betting teaching you how to move from the Right side to the Dark Side and back again as you follow the table's trend. Remember, if you don't learn to play the Don'ts, you're guaranteed to lose around 50% of the time at craps. Learn to play the Dark side and pick your entry points correctly for transition plays; and you will increase your win rate dramatically. Learn to increase your profit on your right-side play and your bankroll will grow even more. That's exactly what this Advanced Betting Session is all about. The cost? Just $359. Sign on at the following link:
Sunday Advanced Betting Strategy Session $359: https://www.paypal.com/cgi-bin/webscr?cmd=_s-xclick&hosted_button_id=UBXH348MFQ7S4
Axis Power Craps is the oldest continuously operated dice control school in the business. We teach the ONLY dice control toss that's scientifically PROVEN to work. No Dice Voodoo. No Trick Shots. No "Watch This" BS. Just the real thing that really works. Nate and I have known each other for almost 20 years and between us we've trained thousands of students – some who have themselves gone on to become some of the best dice controllers around. Our joint seminars in recent years are in the books as some of the best ever. Between my Right-Side approach to the game and DarthNater's Dark Side approach – you get the total package and cannot go wrong.
Space IS limited and Biloxi is our most popular seminar location year in and year out. Make your plans and sign on today.
As always, your tuition covers the cost of the seminar itself and all hand-out material. Attendees are on their own for transportation, meals, and accommodations. Remember, these events are intended to be instructional – educational weekends. While many players walk away from these events winners – there is no guarantee that you will win at any casino session. It's still gambling and you could lose. Don't gamble with money you cannot afford to lose.
---
One of the things "serious" craps players have always liked about the Axis Power Craps forum is the fact that I post my trip reports "warts and all." That means when I have a losing trip I talk about it. I also encourage forum members to do…

Read more